Cabinet Refinishing Services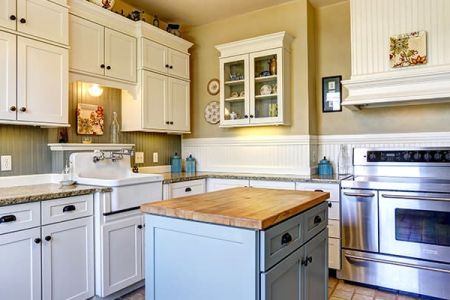 Your home's bathroom and kitchen cabinets are a fairly significant investment in your home, and play a major role in both the function and beauty of your home's interior, but over time, these old cabinets can start to show signs of damage, wear & tear, and aging. When that happens, many homeowners decide to start looking at replacement options, but here at Endecca Painting, our team of skilled Valparaiso painting contractors would like you to consider another option: cabinet refinishing. Cabinet refinishing is an option that many homeowners tend to forget about, but can give you that same new look and feel you want for your home's cabinets without the hassle and expense of actually having to replace them entirely. Are you looking for a professional painting company in Valparaiso that can provide you with the high quality cabinet refinishing services you need to breathe new life into your old cabinets? If so, give our team of skilled professionals a call today and let us show you the level of quality service that has helped make us the area's premier name in quality cabinet refinishing services.
Here at Endecca Painting, we believe that a little bit of damage or wear & tear is no reason to get rid of perfectly good cabinets, and with our full line of high-quality cabinet refinishing services, you won't have to. Our team of skilled Valparaiso cabinet refinishing professionals can help you make your old cabinets look completely new again, helping you save a bit of money while still providing you with the aesthetic update you've been wanting for your home. In addition to our line of cabinet refinishing services, we also specialize in a number of high-quality residential painting services, including both exterior and interior painting. If you have any questions about our full line of cabinet refinishing services, or if you would like to schedule an appointment for consultation, give us a call today. Our team of experts are standing by and always ready to assist you.
Recent Articles
3 Common Color Mistakes To Avoid When Painting Your Home
Interior painting can be a wonderful home improvement project for your Valparaiso home, but before you get started with the project, you need to have a solid idea of what colors you're going to use. […]
3 Benefits Of Exterior Painting In The Summer
The summer season is, without a doubt, the prime time of year when it comes to making improvements around your home. When talking about making home improvements, it's almost impossible to bring up […]